If you're passionate about user experience (UX) and want to build great products, where would you want to work? You might pull out your phone, scroll through the apps, and jot down a list of the ones that you use every day. Surely, it's the apps we use everyday that deliver the most impact and bring us the most joy, right? Apple, Airbnb, Instagram, Shopify, Doordash, Lyft, etc. These are great companies that build great products, but I'm here to let you in on a secret: if you care about user experience and want to have an impact, you should be working in healthcare. 
I know, I know. Healthcare has a bad rap: it's slow, highly regulated and commonly associated with insurance companies and hospitals. People don't want to use healthcare products–they have to use them. But here at Included Health, we're neither a hospital nor your insurance company–we're something different. Our mission is to raise the standard of healthcare for everyone. That starts with creating a better healthcare experience. 
Here are five reasons why someone passionate about user experience should join a healthcare company:
1. Endless opportunities
Healthcare is ripe with opportunity for improving the consumer experience. Healthcare spending accounts for over 17% of US GDP and according to the CDC, almost 85% of US adults and 95% of children visited a doctor or healthcare professional in 2019. 
Consider an adult who recently moved to a new city and is looking for a new doctor. Their search starts on their insurance website for "in-network" doctors. Then, after reading through Google or Yelp reviews, they call the office to book an appointment. The office doesn't answer, so they play phone tag for three calls only to find out the next appointment isn't available for another three months. Oof, they're already in pain after step one. And if they have a chronic condition, the pain is 10x worse. 
The traditional healthcare experience spans multiple companies, none of which put the patient at the center. There are so many experiences, like finding a doctor, that can be improved by reimagining them from the patient's point of view. With an opportunity of this scale, it's imperative that we get this right and recognize the lives we will impact by doing so.
2. A universal problem
Managing our health is something we all do everyday—through our diet, our physical activity, the way we manage stress, accidents or chronic conditions. According to the CDC, 60% of Americans deal with at least one chronic condition, such as heart disease, stroke, cancer or diabetes. That's more than 3x the number of daily TikTok users in the US. 
So many people lack easy access to healthcare and suffer as a result. I've personally struggled with the healthcare system, and many people in my family have as well. The exposure to this pain is a frequent reminder of the problems we are solving and why they are important. 
As a product manager, I find it gratifying to work on challenges that I can personally relate to. By no means is this a replacement for talking to patients, especially those who have a different context than my own (location, job, socioeconomic status, etc.), but it makes my connection to the work more authentic and the mission more real.
3. Impact measured in outcomes, not engagement
Success in healthcare is measured by outcomes. Are we truly improving the lives of those who use our products and services? We look beyond daily active users and consider the doctors we recommend, whether our members are seeing the right providers for their specific needs and the friction we remove by helping people schedule and prepare for their appointments. 
We measure outcomes by asking people to self-report how healthy they feel after they use our products. If they feel better, we're doing well. If they don't, we aren't. Of course we use other metrics as a proxy to understand if the mechanics of the experience are working (e.g. conversion funnels), but we don't stop there. This leads to richer conversations about our product's success, and it incentivizes us to build a better product.
4. Fast-paced teams
A common misconception about healthcare is that teams move slowly. This is not true at Included Health! Because of the opportunity for our progress to drive outcomes that matter to people's wellbeing, we feel a strong responsibility to move quickly.
In my first four years at the company I've witnessed the launch of four major products, rebuilt our mobile apps from the ground up, integrated the features between Grand Rounds Health and Doctor On Demand, all while continuing to ship improvements to features that are available to millions of people across the country. And that's just on my immediate team! 
Our clinical teams move quickly as well. Hiring subject matter experts allows us to continuously improve our process and infrastructure to serve an ever-increasing patient population while prioritizing their safety and wellbeing.
5. Special teammates
Healthcare work attracts a special type of person: they tend to be highly empathetic, compassionate, dedicated and curious. They also tend to be more diverse across gender, race, ethnicity and sexual orientation. It creates a culture of inclusivity and commitment to a mission that is not often found in other industries or companies. Strong teams build great products. That is exactly what we plan to do. 
If you are passionate about great user experiences, and if I have convinced you that healthcare is the place to hone your craft, we're hiring! At Included Health, we're dedicated to providing a better, more equitable healthcare experience for everyone. With our products and services reaching over 100 million people across the United States, we're well on our way to achieving that goal, but we're not there yet. I hope you'll join us.
Visit our career pages to learn more about employment Included Health.
About the author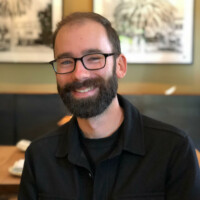 Ben Hadden, Director Product Management
Ben Hadden is a Director of Product Management at Included Health based in Oakland, California. He is the product lead of the Member Experience team where he partners with product managers, designers, and engineers to deliver a seamless digital experience across all of Included Health's consumer products. He is passionate about using technology to make healthcare as effortless and easy to access as all of the other products and services in consumers' lives.