Over the past two years, the pandemic has led to an increase in individuals becoming stressed while adjusting to the "new normal" and finding themselves busy multitasking between work life and home life. As a result, the health and well-being of many employees, and their families, have taken a backseat. And when it comes to overall health, nutrition can play a key role.
As someone that lives with type 1 diabetes, one of my main goals is to present information from the perspective of members. As with any chronic condition, lifestyle and nutrition changes are important. For people with diabetes, these changes, in addition to monitoring blood sugar, and remembering to take insulin and other medications can often be sources of stress.
As a registered dietitian and diabetes education specialist I focus on providing members with personalized nutrition counseling to improve overall health and prevent chronic conditions. My approach to nutrition consulting begins with a thorough understanding of health history and review of interactions with their care team. This sets up a line of communication to help members hit the ground running towards their personal health goals. In addition, our nutrition team provides personalized nutrition education through shared decision making that considers the daily life of members.
Since 2019, my journey with Included Health has been rewarding. It is an honor to provide a valuable service while working with a like-minded team to ensure a seamless experience for members. Together, our focus is keeping members healthy, eating well, and helping them manage their health conditions. We recognize the importance of employees' physical and mental health with a holistic approach to work-life balance.
My goals as a dietitian and diabetes educator at Included Health are to help our members  understand their specific nutrition needs to live a long, healthy, and happy life. This includes:
Helping members choose foods that nourish the whole body for long-term health—these foods are colorful, have a high nutrient value, and are rich in fiber
Encouraging members to visualize realistic goals that are possible to reach
Interested in learning more about how nutrition supports overall health and is a key part of our Primary Care offering at Included Health? Start a conversation today.
About the author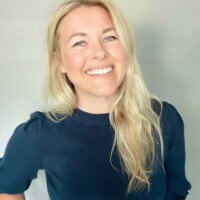 Lauren Plunkett RDN
Lauren Plunkett is a Registered Dietitian Nutritionist, Certified Diabetes Care and Education Specialist, fitness instructor, public speaker, author of the award-winning book: Type One Determination, and a fierce patient advocate. As a person living with type 1 diabetes for over two decades, she provides knowledge from the perspective of the patient experience and health care professional. Known for her dynamic presentations, she can be seen on a national stage in 2022 with the Juvenile Diabetes Research Foundation, American Diabetes Association Scientific Sessions, and the Association of Diabetes Professionals Annual Conference.